July 15, 2013 1:10 pm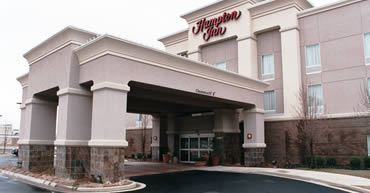 Leisure Real Estate Advisors, LLC, is very pleased to announce its appointment as exclusive marketing agent for the Miami Oklahoma Hampton Inn.  Miami is located in northeast OK, half way between Tulsa, OK and Springfield, MO.  It is an interstate hotel (I-44 and the Oklahoma Turnpike), with great access to the lakes and to the casinos.
"We are always excited when we receive a Hampton Inn assignment", says Brent A. Jaynes, co-founder of Leisure Real Estate Advisors. "The Hampton Inn brand is among the strongest mid-market brands, and it usually brings a high level of investor inquiry", comments Jaynes. "We have been fortunate, in that a significant number of Hampton owners have entrusted their hotels to us."
This Hampton Inn is a 74 unit hotel located just off of Exit 313, I-44. Built in 2007, it is the newest prototype and features all of the current design requirements by Hampton, including the breakfast area. The "Perfect Mix Lobby" initiative was rolled out during construction and the owner re-designed the breakfast area late in the construction process at considerable expense, in order to comply. It features easy access and visibility from heavily traveled I-44 and offers a location near 13 casinos owned by various Indian tribes of NE Oklahoma. Northeast Oklahoma A&M College is also nearby. Besides the newer build, the most appealing aspect of the offering is the price per key. Priced at $63K per key, it is very difficult to find any newer Hampton Inn for under $80K per key. Needless to say, you will be dealing with a motivated seller. His primary business is not hotels, and this is the last one in his portfolio. His goal is to reallocate his assets back into his core business.
"It goes without saying that anytime we list a Hampton, we look forward to these assignments, and this hotel is no exception.", says Jaynes. Mr. Jaynes further remarked, "Over the past year, this market has normalized a bit and has transitioned from a distressed mentality. We are seeing a good deal of activity, which is quite encouraging. I am quite confident the offering will attract attention".
Leisure Real Estate Advisors, LLC is based in metro Kansas City, with branch offices in Lincoln, NE and Jefferson City, MO, and has a specialty concentration in the marketing and sale of hotels. Over its 15 year existence, the company has become one of the premier hotel brokerage firms in the country and boasts collective closing volume of over 1 billion dollars.