August 8, 2013 8:42 am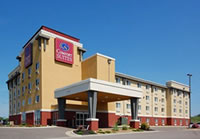 Leisure Real Estate Advisors, LLC, is very pleased to announce the successful sale of the Comfort Suites hotel located at the Mid-Continent Airport, Wichita, KS. Leisure Real Estate Advisors represented the Owner, Ladiwala Hospitality, LLC, in the transaction. S&B Motels, Inc, a Wichita, KS based company, purchased the 78 unit hotel for an undisclosed price. The listing price was $6,600,000. "Because of its cash flow and location, this Comfort Suites featured an attractive top line revenue and cap rate. ," comments Brent A. Jaynes, co-founder and managing partner of Leisure Real Estate Advisors. The airport market has historically been a one of the stronger markets in the area, and the introduction of Southwest Airlines to Mid-Continent in September was a secondary compelling factor in the transaction", observes Jaynes.
Deal Illustration: Casualty Loss
Every deal seems to have a twist or turn that requires all parties to adjust to the circumstances presented during the deal path and the Comfort Suites was no different. Thirty days prior to closing the hotel experienced a casualty loss a result of water damage. A guest used a sprinkler head has a method to hang a set of clothes and the result was a fractured sprinkler head and hours of running water. The stream of water was fairly extensive and occurred on the 4th floor. Original assessments were that the damage was minor, but deeper investigation revealed additional damage, all resulting in additional sheet rock damage and retained moisture in the walls. In order to comply with the timeline of the 1031 Exchange, the parties had to get creative in finalizing the deal.
As one would expect, the only way to close in a timely fashion was to establish an escrow agreement and account to the satisfaction of the title company in order to issue mechanics lien coverage on the title policy. "Both of these parties and the Seller's management company, Noble Hospitality, worked very diligently to remove the obstacles to this closing. It was team effort and a pleasure to work with folks that had the same objective in mind and stuck with the process." says Jaynes. S&B will retain the Comfort Suites flag and will repair the damage and complete the PIP.
Leisure Real Estate Advisors, LLC is based in metro Kansas City and has a specialty concentration in the marketing and sale of hotels. It also has branch offices in Lincoln, NE, Jefferson City, MO, and soon to have an office in Minnesota. Over its 15 year existence, the company has become one of the premier hotel brokerage firms in the central US.
For more information on this sale or to discuss the investment market in general, please direct your questions to:
Brent A. Jaynes
Managing Partner
Leisure Real Estate Advisors
bjaynes@leisurerealestate.com
913-499-4731